Welcome to George Gee Buick GMC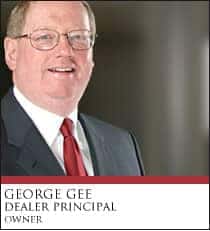 George Gee Automotive Companies began as a single-point Pontiac dealership in 1983. As the business began to thrive so did the status of one of the dealership's employees, George Gee. Eventually, George became the owner and in a short period of time managed the dealership into becoming the largest in the State of Washington. When GMC was added in 1991, it too, became the largest in the State.
Business continued to grow and in 2000 the Gee organization moved to Liberty Lake, a fast-growing metropolitan area, located near Spokane, Washington. Located just off of Interstate – 90, the 66,000 square-foot dealership features customer amenities including; a café, library, television lounge, children's play area, internet workstations, and an outdoor putting green.
The next stage of automotive dealership innovation came in 2002 within General Motors' strategy to broaden the Hummer brand. George Gee became one of the first 150 Hummer dealerships in the nation. In 2004 GM awarded Gee with a Buick franchise, which created the Buick-Pontiac-GMC channel.
The Gee Automotive Company was beginning to establish itself as one of the largest family–owned dealer groups in the Northwest, with plans to expand our influence. And before the end of 2004, the organization purchased a Cadillac-Isuzu store in nearby Coeur d' Alene, Idaho. In early 2006 the Gee Automotive Companies continued to expand with the addition of the Nissan dealership in Pasco, Washington. Located just off of highway 395, this operation meets the standards set forth by Nissan. Then, in June of 2006, Porsche of Spokane was created by Gee. This state-of-the-art facility exudes class with corporate offices above a glass and chrome showroom. It also has the distinction of being the only Porsche dealership between Seattle and Minnesota and south to Boise, Idaho.
While the Gee Companies have achieved dramatic growth over the last twenty years, our goal is not to become a giant, but more importantly, a great company.
Our vision is to provide an unparalleled environment centered on service to our customers. Our operation is made up of a unique process that was years in the making. At its core are dedicated employees who work in the most modern of facilities.
We recognize that as our company grows, so must our employees. Gee is not just a place to work, it is part of an industry where careers are formed and futures are built. Personal and professional training are made available to our employees because we feel they are a natural combination that shapes our greatest assets: our employees.
Our business strategy was built on the foundation of creating customer relationships one at a time. And we understand that this philosophy will be the key to our future growth.
Our mission is dedicated to product, service, and community. And as the future develops over time, we will seek to become a sincere community partner, serving families that are in need, in each market we serve.