Suburban
THE BEGINNING
When launched nearly 80 years ago, no one could have predicted that the Chevrolet Suburban would go on to become the longest-running nameplate in automotive history. Now in its twelfth generation, Suburban has played an integral role in America's economy, national defense, and the American family.
America in the mid-1930s was mired in the Great Depression. The nation's economy was just beginning a long, slow, and painful recovery from the stock market crash of 1929. Unemployment remained high—around 20%—while the storms of the Dust Bowl continued to ravage the central states. But there were small signs of life, specifically rising demand for more capable commercial transport.
The prevailing vehicles for moving people and goods around the city were car-based wagons. Many manufacturers produced such wagons, most often clad in wooden siding with canvas tops. But more durable vehicles with greater hauling and towing capacity were needed, and Chevrolet began experimenting with a steel wagon body mounted on a truck frame.
In 1935, Chevy introduced the "Carryall Suburban" to the public and it quickly became a hit with professional customers. And though the term "SUV" wasn't coined for another half-century, the Suburban is widely considered the first such vehicle—and nearly 80 years later it's still one of the most popular. It's even used by the United States Secret Service as part of the Presidential motorcade.
Just as its original design aligned with economic needs at the time, Suburban's evolution closely tracks America's journey through the remainder of the 20th Century and into the beginning of the next.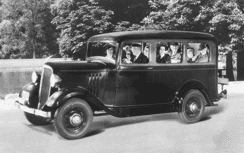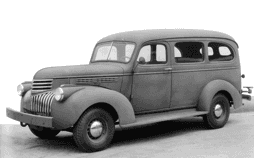 1933-1940 GENERATION 1 AND 2: BUILDING A BETTER MOUSETRAP
Local commerce in the early 1900s relied on wagon-style vehicles with names like depot hack, panel wagon, canopy express, carryall, and suburban. A long, open space behind the driver made for lots of room to carry all kinds of goods. By the 1930s, most auto manufacturers sold a delivery wagon, many with removable seats to accommodate passengers, too. (Several automakers concurrently used the name "Suburban" in various forms, some doing so as recently as 1978.)
Chevrolet actually built the first generation Suburban for the National Guard and Civilian Conservation Core units based on its existing ½ ton pickup truck. Like most manufacturers Chevy employed a wagon body crafted from wood and topped with a canvas roof.
But wood and canvas wore poorly and were easily damaged, so Chevy began to experiment with an all-steel design. This would lead to the second generation of Suburban, debuted to the public in 1935 and dubbed the "Carryall Suburban."
Power came from a 207 cubic inch inline six-cylinder engine called the "Stovebolt" which delivered just 60 horsepower. A 112″ wheelbase provided room to seat eight among three rows of seats. Options were few and included the choice of either a vertical liftgate or side-hinged "barn doors" in the back.
Power from the Stovebolt increased for 1937 to about 80 horses. That same year GMC would introduce its own Carryall Suburban. Chevy and GMC would continue selling nearly identical models under the same name until 2000 when GMC rebadged its version as the Yukon XL.
The Suburban sold well among commercial buyers needing larger, more durable city transport. It wouldn't be until various cultural changes—most notably post-WWII suburban expansion—took root before the vehicle caught on as a family hauler.
1941-1946 GENERATION 3: OFF TO WAR
The third generation saw slight aesthetic changes, while GMC's Suburban benefitted from an increase in power thanks to a new 228 c.i. engine.
When war broke out at the end of 1941, all American automakers ceased production of civilian vehicles. Chevy and GMC continued to build Suburbans for the military as they were well-suited for carrying troops and supplies.
Chevy resumed civilian production in 1946, picking up right where they had left off with the Suburban essentially identical to those made in 1942.
Though four-wheel drive wasn't yet a factory option, NAPCO conversion kits became available in 1942. Kits installed in just a few hours with as few as four holes drilled in the Suburban chassis. Suburbans with such aftermarket NAPCO kits are currently among the most rare and collectible models.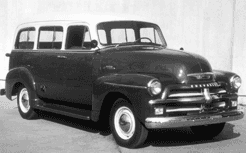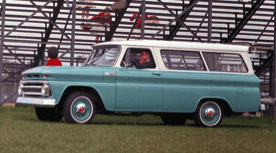 1947-1959 GENERATION 4 AND 5: SHIFTING FORWARD
In addition to untold human casualties, World War II wreaked economic havoc in every major country … except the United States. Conversely, the War put a decisive end to the Great Depression and spurred the American economy to new heights, thanks in large part to research and manufacturing for the military.
Rapid technological advancement during the War continued into the years that followed. General Motors released the Advance Design series of trucks in 1947, the first significant redesign since the War began—and the basis for the fourth generation of Suburban. By 1953, buyers could choose the Hydramatic automatic transmission as an option. And the Stovebolt engine was finally replaced by the more advanced and more powerful Thriftmaster six-cylinder.
A full redesign for Chevy and GMC trucks—and consequently the Suburban—happened halfway through the 1955 model year. The fifth generation Suburban got a completely new look with a flatter hood, flush fenders, and a less prominent grill.
Arguably the biggest leap forward for this generation was Chevy's new small block V8. The first small block displaced 265 c.i. and pumped out 180 horses, more than double that of the old Stovebolt that powered the first Suburban.
The NAPCO 4WD conversion became a factory option in 1957, another advancement in Suburban's utility.
It was during this period that the American suburbs were born. Levitt and Sons finished construction of Levittown, NY in 1951, and many more such communities would spring up in the years that followed. Growing American families needed spacious, comfortable vehicles to navigate sprawling new suburbs. And the burgeoning interstate highway system would allow Americans to move about the country like never before. Chevy's aptly named Suburban was poised to assume a new role as family hauler.
1960-1972 GENERATION 6 AND 7: A MORE REFINED RIG
Styling cues from Chevy cars of the late 50s were picked up for the Suburban's sixth generation. But beyond just borrowing styling cues, these trucks also picked up some of the road manners of passenger cars. Wrap-around windshields and larger door glass improved visibility while independent front suspension provided more comfort and more control. For 1965 the Suburban was available with perhaps the ultimate comfort option: air conditioning.
In 1967, a third door was added on the passenger side providing easier access for those headed to the back seats. Three years later, a tilt steering wheel was available as was a stereo with an 8-track cassette player. Also in 1970, 4WD Suburbans were available for the first time with an automatic transmission. Disc brakes appeared up front for 1971.
Another obvious sign that Suburban was evolving beyond its roots as a work rig: panel truck versions for commercial use were discontinued after 1970.
Interestingly, when Dodge retired the Power Wagon after 1966, Chevy and GMC were alone in producing a suburban-type vehicle until the SUV craze began twenty years later.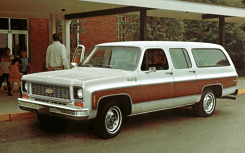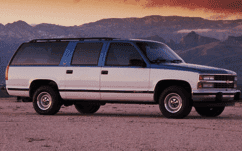 1973-1991 GENERATION 8: EFFICIENT EVOLUTION
The eighth generation of Suburban would be the longest, spanning nearly twenty years among a series of economic ups and downs. From the oil crisis of the 1970s to cheaper gas in the 80s, to the beginning of SUV madness in the 1990s, Suburban was evolving with the times.

The look for 1973 was utilitarian and the chassis featured four doors for the first time. Amenities continued to improve with front and rear air conditioning, a heated third row, and step plates to make entering and exiting easier for up to nine passengers.

Oil spikes in 1973 and 1979 impacted the engines offered in the Suburban. Corporate Average Fuel Economy (CAFE) standards, implemented in 1975 in response to the OPEC oil crisis, forced Chevy engineers to deliver better fuel efficiency. Electric Spark Control debuted in 1981 on a new 305 c.i. small block.

By the 1980s both supply and demand for oil stabilized somewhat leading to more affordable prices at the pump. A six-cylinder motor was no longer available, while the 305 small block served as Suburban's base engine. Buyers wanting more grunt could opt for the 454 c.i. big block or, beginning in 1982, a 6.2L diesel engine. While the diesel provided excellent torque for towing, it was marketed as a high-MPG alternative to gasoline engines.

Surprisingly, it wasn't until 1988 that GM made the name "Suburban" its own. After more than 50 years of Suburbans produced by more than a half dozen manufacturers, GM registered a trademark for the name on May 31st, 1988.
1992-2006 GENERATION 9 AND 10: GOLDEN AGE OF THE SUV
During the 1990s Americans who bought their first SUV learned something Suburban owners already knew: these big wagons were incredibly useful for everything from camping to Christmas shopping. But it wasn't just utility that spurred the sport utility revolution.
The SUV phenomenon was a combination of opportunistic engineering and brilliant marketing that coincided with unique shifts in American housing trends. CAFE regulations hampered American carmakers while foreign brands—especially those from Japan—seized the market opportunity for smaller, more efficient vehicles.
Meanwhile, these regulations didn't apply to light trucks which presented an opportunity for US automakers. The "Big Three" all found ways to fit a car-like chassis on a truck frame. And so the SUV was born.
But a revolution doesn't happen in a vacuum. Concurrently, American suburbs were moving farther and farther from city centers. A new term—"exurbs"—was even invented to refer to these remote planned communities. Marketing for SUVs relied heavily on scenes of camping, hunting, and other outdoor activities. These messages resonated with suburb and exurb residents who found themselves living closer to nature.
From 1990 to 2006 sales of SUVs grew 520%.
The SUV is widely credited for saving the US auto industry which was encountering fierce competition from imports. SUVs were incredibly profitable and they were selling like hotcakes.
By 1992 the Suburban had grown to a wheelbase of 131.5″, nearly two feet longer than the original model. Engines choices were simplified to the gasoline small block (5.7L) or big block (7.4L) or a 6.5L diesel. Step-in height was lower than ever and more glass improved visibility. Other improvements included four-wheel antilock brakes and shift-on-the-fly capability for 4WD models. In 1995 the driver got an airbag—passengers wouldn't get one for two more years.
In 1996 Vortec 5.7L and 7.4L engines were introduced with the larger mill producing 290 horsepower. Engines were improved for 2001 and a new range-topping 8.1L big block Vortec debuted providing an impressive 340 horsepower and 455 pound-feet of torque.
The Suburban got even more comfortable in the mid-2000s with the addition of optional first row captain's chairs, tri-zone climate control, DVD entertainment systems, and touchscreen navigation.
After 65 years of sharing the nameplate, GMC rebadged their version of the Suburban in 2000 as the Yukon XL. Cadillac began offering a rebadged version of their own called the Escalade ESV.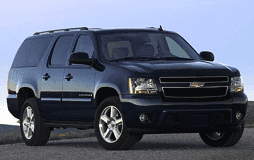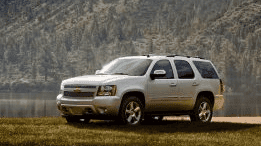 2007-PRESENT GENERATION 11 AND 12: THE SURGING SUBURBAN
In 2010 Chevrolet released a limited production special edition of the Suburban to celebrate the nameplate's 75th anniversary. The eleventh generation of Suburban cut a more aerodynamic profile while interior amenities kept pace with the times featuring modern conveniences like heated and cooled seats, Bluetooth connectivity, and USB ports.
The slicker Suburban remained a capable hauler, retaining its edge in utility over newly popular "crossover" vehicles. Interior comfort was balanced by functional upgrades such as the addition of trailer sway control and hill start assist in 2012. Power came from a trio of Vortec V8s via 4-speed or 6-speed automatic transmissions. Towing capacity for the ¾ ton model was a class-leading 9,600lbs.
The twelfth, and current, generation hit showrooms in February 2014 with a sleeker front fascia and other aerodynamic elements while the basic Suburban shape remains. Advances in engine technology are reflected in the EcoTec3 V8s that deliver best-in-class 18MPG (combined).
While Suburban and Yukon XL construction remains body-on-frame, these large SUVs have completely unique sheet metal and lighting elements compared to the full-size pickups with which they share a frame and running gear.
Rather than slowing down in its old age, Suburban sales are surging. Month-over-month sales in 2014 have been up as much as 110% and sales overseas are up as much as 37% (Middle East). GM reports that its large SUVs account for eight out of 10 vehicles the brand sells.
When buyers need lots of space plus lots of hauling and towing capacity—but don't want to sacrifice comfort and amenities—the Suburban remains a clear winner. The longest running nameplate in the industry has been reinvented many times over with the same winning formula tailored to meet the needs of the modern car buyer.
A 13th generation is scheduled to hit showrooms in 2019 with advances rumored to include a 10-speed automatic transmission and a lightweight aluminum body.
-By Adam Gershon